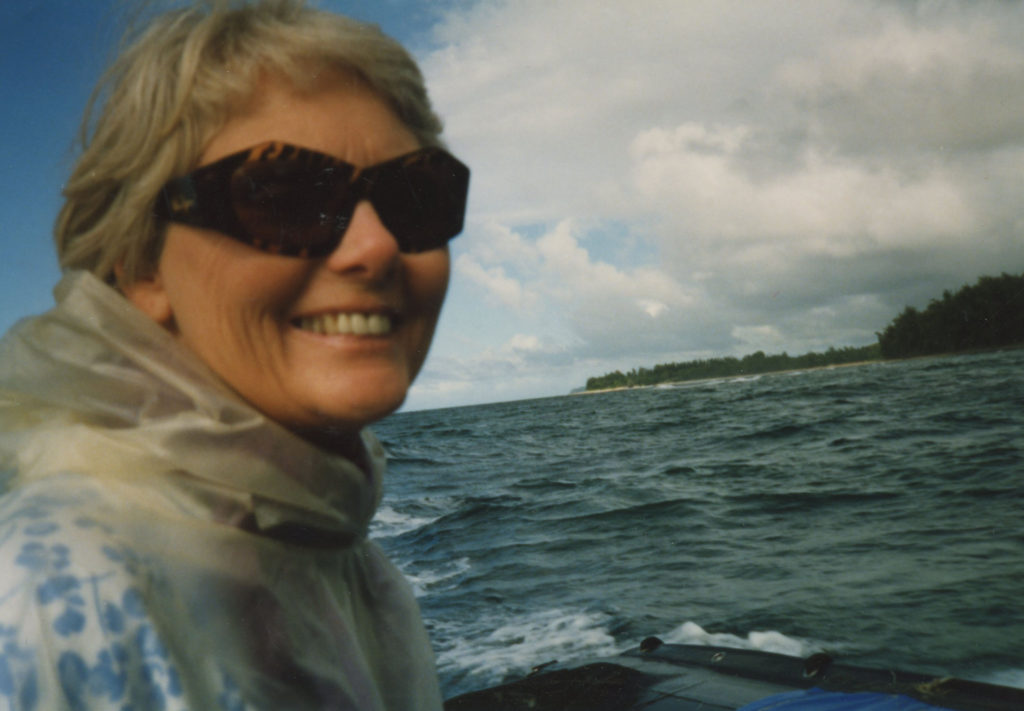 HOW DOES ONE CONSCIOUSLY  LIVE ON THE  NARROW MYTHOLOGICAL EVOLUTIONARY EDGE WITHOUT BEING DEVOURED BY SOME FORM OF IDENTIFICATION WITH THE UNCONSCIOUS,  SUCH AS  INFLATION OR MADNESS?
HISTORIC EFFORTS WITH REGARD TO THIS DILEMMA  AND JOURNEY ARE FOUND IN ALL  POETRY, ART, DRAMA, MUSIC, SCIENTIFIC AND PSYCHOLOGICAL EXPRESSION.
JUNG'S PIONEERING WORK ON THE OBJECTIVE PSYCHE AND  RELATING TO THE UNCONSCIOUS THROUGH DREAMS AND ACTIVE IMAGINATION OFFERED  THE VEHICLE , THE CHARIOT, THE ROYAL ROAD TO THE POSSIBILITY OF UNDERSTANDING AND RELATING TO THE PARADOXES IN MY LIFE.  
THROUGH JUNG'S DEPTH PSYCHOLOGY, I BEGAN TO FEEL THE POSSIBILITY OF LIVING  SOME  NEW, UNKNOWN, PERSONAL DESIGN, WHICH I INTUITED BUT HAD NOT GROUNDED.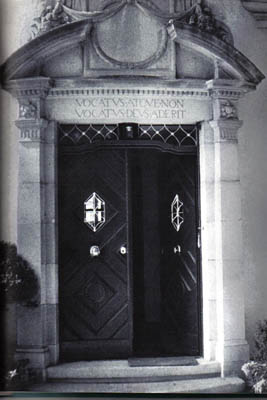 MY EXPERIENCE BEGAN  THROUGH SYNCHRONICITY, ILLNESS AND GRIEF, THE INNUMERABLE, UNEXPECTED CHALLENGES OF LIFE.
EVERY NORTHERN GATE PAPER REFLECTS MY ATTEMPT  TO HONOR THE DELICATE, WOUNDED, OUTRAGEOUS FEMININE PRINCIPLE SEEKING ITS PARTICULAR, UNIQUE, CREATIVE EXPRESSION.  I BELIEVE SUCH A CALL IS ALWAYS PRESENT.  JUNG CARVED OVER THE DOOR OF HIS KUESSNACHT  HOME, "CALLED OR NOT CALLED, THE GOD IS THERE."   WHETHER RECOGNIZED OR HONORED, THE ARCHETYPE OF BEAUTY AND CREATIVITY WILL CONTINUALLY CALL OUT FOR EXPRESSION THROUGH YOU TO HAVE ITS VOICE IN THIS WORLD.
AN INNER  SECRET DESIGN, A DESTINY, AN ANTENNA  PULSED IN ME TOWARDS A  BECOMING THAT FOUND CREATIVE EXPRESSION THROUGH HONORING AND DEVELOPING A CONSCIOUS RELATIONSHIP WITH THE  UNCONSCIOUS.
THE BLOOD-REMEMBERING OFFERED THROUGH DREAMS,  MUSIC, POETRY AND SYNCHRONICITY WERE TO OFFER CONTINUING EXPERIENCES IN THIS UNFOLDMENT.
MARRIAGE, MOTHERHOOD, A NURSING, TEACHING AND COUNSELING CAREER , WORLD TRAVEL, ILLNESS  AND ALL RELATIONSHIPS BECAME INEXTRICABLY WOVEN INTO  AN INNER/OUTER POSSIBILITY OF UNDERSTANDING THE DEEP TREASURES WITHIN, AND MY SEARCH TO  LIVE  AND SHARE WHAT PERSONAL, EXPERIENTIAL WISDOM, COMPASSION AND LOVE I HOPED TO OFFER FROM THIS PLACE IN MY PSYCHE. 
ALL OF THE NORTHERN GATE PAPERS  REFLECT THE ATTEMPT TO COMMUNICATE AND BRING INTEGRATION TO MY PERSONAL/ARCHETYPAL JOURNEY.  THIS MEANT LEARNING HOW TO COME INTO DIALOGUE WITH PREVIOUSLY UNKNOWN ASPECTS OF MYSELF, TO LEARN WHAT WAS TRUSTWORTHY THERE, TO EXPERIENCE WHAT WAS GENERATIVE AND NON-GENERATIVE FOR ME AND TO THRIVE THROUGH THE IMPERFECTIONS AND TRAGEDIES OF LIFE.
THESE ARE  MY SONGS  AND  MY  PERSONAL DANCE,  AND  ARE NOT INTENDED TO PROVIDE AN EXAMPLE OR PATH FOR ANYONE ELSE.  ONE'S  DESTINY IS PERSONALLY CRAFTED FROM CHOICES MADE IN RELATION TO ONE'S FATE.  I  LEARNED  THROUGH MY JUNGIAN WORK THAT IT WAS POSSIBLE TO MAKE DEEPER,  MORE INDIVIDUAL, GENERATIVE CHOICES.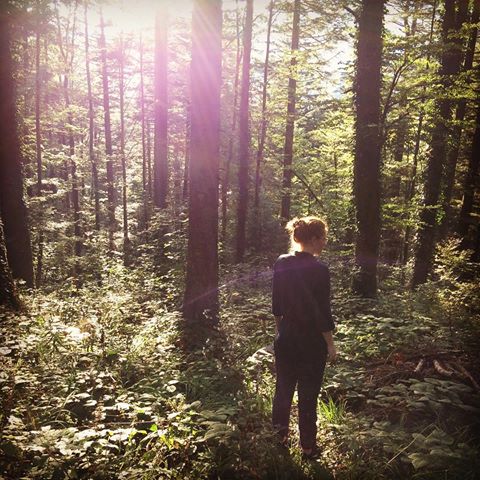 WE  EACH  ENTER THE FOREST  ALONE IN CHOOSING OUR OWN PATH, BUT AS JUNG WROTE —"IF YOU MAKE A RELATIONSHIP TO THE UNCONSCIOUS, YOU WILL NEVER BE ALONE AGAIN."
AS IN A FAIRYTALE, ONE MEANINGFUL  "CHANCE" MEETING AFTER ANOTHER KEPT OCCURRING FOR ME. 
MY ORIGINAL MOTIVATION TO COMMIT MYSELF TO  WORK WITH THE UNCONSCIOUS BIRTHED IN 1964 WHEN I WAS GIVEN THE  DIAGNOSIS OF M. S.
EARLIER NURSING EXPERIENCES  OFFERED ONLY VISIONS OF DETERIORATION AT THAT TIME WITH  M.S., OF BEING IN A WHEELCHAIR WITH A COMPROMISED LIFE.
MY HUSBAND WAS THREATENED BY THIS DIAGNOSIS, EFFECTING THE MARRIAGE, WHICH BROUGHT  FURTHER STRESS, ESPECIALLY REGARDING  THE CARE OF MY TWO CHILDREN.  I WAS HAUNTED BY A VISION OF A  BROKEN LIFE.
IN MY SEARCH FOR ANSWERS, I ATTENDED A SEMINAR ON DREAMS IN SAN DIEGO , GIVEN BY VERDA HEISLER AND JOHN SANFORD IN 1971  I WONDERED WHAT INFORMATION THE UNCONSCIOUS  COULD POSSIBLY GIVE ME  ABOUT MY SITUATION?  I BEGAN WORK WITH JOHN SANFORD A MONTH LATER.  THE FOLLOWING DREAM , THE FIRST IN THAT ANALYSIS, WOULD PROVE TO BE A DIAGNOSTIC AND PROPHETIC  BEGINNING, OFFERING BOTH PERSONAL AND ARCHETYPAL MEANINGS TO RELATE TO AND COME TO TERMS WITH.
My two girls and I were setting up dinner at our house on Scarborough Rd in Cleveland, Ohio. A table was on the front porch (not usual)and  there was a white cloth on the table.  As we prepared to sit down, I looked out into the garden.  It was not the real one, but a newly planted garden.  Right in the middle of it was a peccary.  I was stunned, and surprised and wondered what to do.  It just stood there, almost as if it were saying 'I am here to be contended with' appearing to smile at me. 
THE DREAM GOT MY ATTENTION.  HERE WAS A CLEAR WARNING  THAT DEALING WITH THE  "WILDNESS" OF THE FEMININE WOULD BE NO ORDINARY TASK. THE PECCARY CLOSELY  RESEMBLES A WILD BOAR AND CANNOT BE DOMESTICATED. THE WORK TO COME WAS NOTHING TO FOOL WITH.  I WAS GRATEFUL TO HAVE JOHN SANFORD AS MY GUIDE  TO BEGIN THE ADVENTURE INTO UNDERSTANDING AND RELATING TO THE ROLE OF THE SYMBOL  FROM THE COLLECTIVE  UNCONSCIOUS.  SYMBOLS FORM THE BRIDGE BETWEEN A CONSCIOUSNESS CALLED TO RELATE TO THE TRANSPERSONAL AND THE INSTINCTS WITHIN THE ARCHETYPES.   THE SYMBOLS ARE LIVING FORCES THAT DEMAND ALL OF US,   AS I WORKED TO TRANSLATE AND UNDERSTAND, THE DREAM, I BEGAN TO EXPERIENCE RE-DIRECTION TOWARDS A  DEEPLY MEANINGFUL.LIFE .
THAT LIFE  WOULD BE INDIVIDUAL  AND  OUT OF THE ORDINARY WHEN COMPARED TO MY PAST.  THERE WAS A MOMENTUM THAT COULD   NOT BE IGNORED . THIS ENTRANCE INTO BEING CALLED TO RELATE TO THE COLLECTIVE UNCONSCIOUS  CONTINUES TO INFORM, ENLIVEN AND ENRICH MY LIFE TODAY.
JUNGIAN ANALYSTS, JOHN SANFORD, ROBERT JOHNSON, HILDE AND JAMES KIRSCH, AND BETTY SMITH, MYTHOLOGIST, WERE  MY EARLY GUIDES  ON THIS EVER WIDENING SEA OF LIFE. THROUGH OTHER DREAMS, I FELT CALLED TO ACTUALLY TRAVEL IN THE COLLECTIVES OF NORTHERN EUROPE—ENGLAND, SWEDEN, SCOTLAND, ICELAND AND SAMILAND.
A SEARCH FROM A DREAM FOR "BRISINGAMEN," (THE FEMININE TREASURE) (SEE THE NORTHERN GATE PAPERS,  "BRISINGAMEN – A NECKLACE OF DESTINY").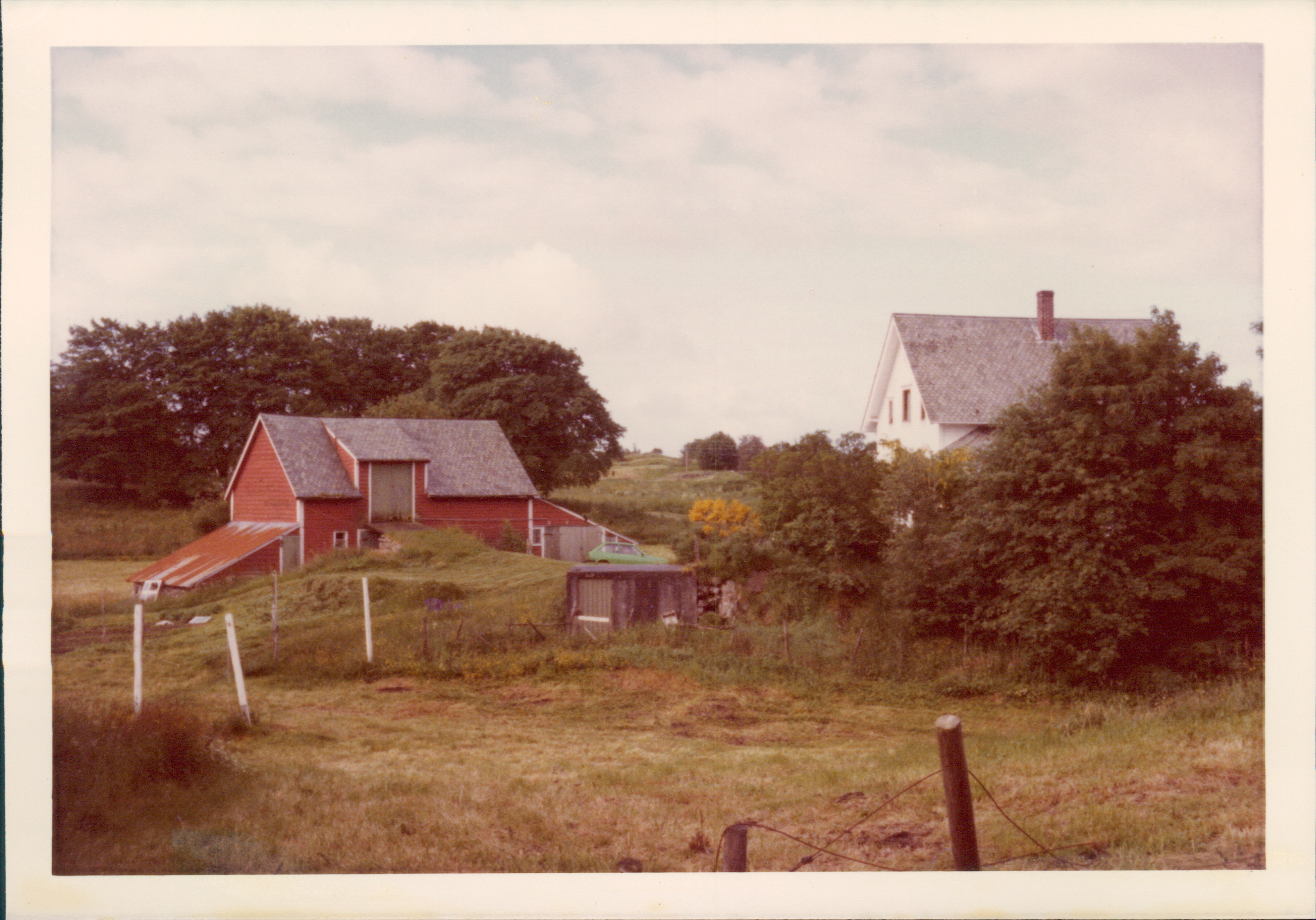 TOOK ME TO  NORWAY TO COME TO KNOW COUSINS AT THE ANCESTRAL FARM ON THE ISLAND OF HUFTEROY.   ONE OF OUR MANY ADVENTURES WAS TO A JEWELER IN  SETESDAL, WHOM THEY THOUGHT MIGHT HAVE INFORMATION ABOUT THE NECKLACE
PIERCINGLY,  HE ASKED ME TO ENTER "THE MUSEM ROOM" IN HIS LITTLE COUNTRY JEWELRY STORE ON THIS OLD COUNTRY ROAD, DIRECTING ME TO SIT DOWN.
BRINGING OUT HIS HARDANGER FIDDLE FROM AN OLD TRUNK, HE BEGAN TO PLAY, WHAT HE CALLED, "THE MUSIC FROM  UNDERNEATH." DEEPLY MOVED AND FLOODING WITH TEARS,  I RECOGNIZED THAT IN THAT MOMENT I HAD  "SEEN" AND  "HEARD" AND EXPERIENCED A VIBRATION, A  SOUND AND  A FEELING  OF A DEEP UNKNOWN THAT HAD A VOICE—THE VOICE OF THE EARTH, "THE OTHER."  I HAD MADE CONTACT WITH MY DEEP  FEMININE NORWEGIAN SOUL. NEW DEPTHS OPENED TO ME. IT WAS AN EXPLOSION, A NUMINOUS, HOLY  MOMENT.  I HAD BEEN TRANSPORTED INTO A FIELD THAT I  HAD NEVER EXPERIENCED.  I COULD ONLY WEEP AND I FELT  HOPE.  MY  COUSINS HONORED THIS MOVING  EXPERIENCE WITH  A  BEAUTIFUL BIRCH PLAQUE WITH THE ENGRAVING "BER ER STEDET DU SOKER ETTER" WHICH  TRANSLATES TO "HERE IS THE PLACE YOU ARE SEARCHING FOR."
YEARS LATER, IN WORK WITH DR. MICHAEL CONFORTI, AT THE ASSISI INSTITUTE IN MYSTIC CT.,  HE REMARKED  THAT  IT WAS "TIME TO PULL IN THE NET."  SUDDENLY, I UNDERSTOOD IT WAS TIME FOR ME TO WRITE THE POETRY AND TO TELL THE STORIES.  HIS REMARK CATAPULTED ME TO THE MEMORY OF MY FAVORITE CHILDHOOD POEM, WYNKEN, BLYNKEN  AND NOD,  (IN EUGENE FIELD'S POEMS OF CHILDHOOD,) GIVEN TO ME BY MY SCOTTISH UNCLE, DORR BEALE.
Wynken, Blynken, and Nod one night
Sailed off in a wooden shoe—
Sailed on a river of crystal light,
Into a sea of dew. "
"Where are you going, and what do you wish!"
The old moon asked the three
"We have come to fish for the herring fish
That live in this beautiful sea:
Nets of silver and gold have we!"
Said Wynken,
Blynken,
And Nod.
The old moon laughed and sang a song,
As they rocked in the wooden shoe,
And the wind that sped them all night long
Ruffled the waves of dew.
The little stars were the herring fish
That lived in that beautiful sea—
"Now cast your nets wherever you wish—
Never afeard are we"
So cried the stars to the fishermen three:
Wynken,
Blynken 
And Nod.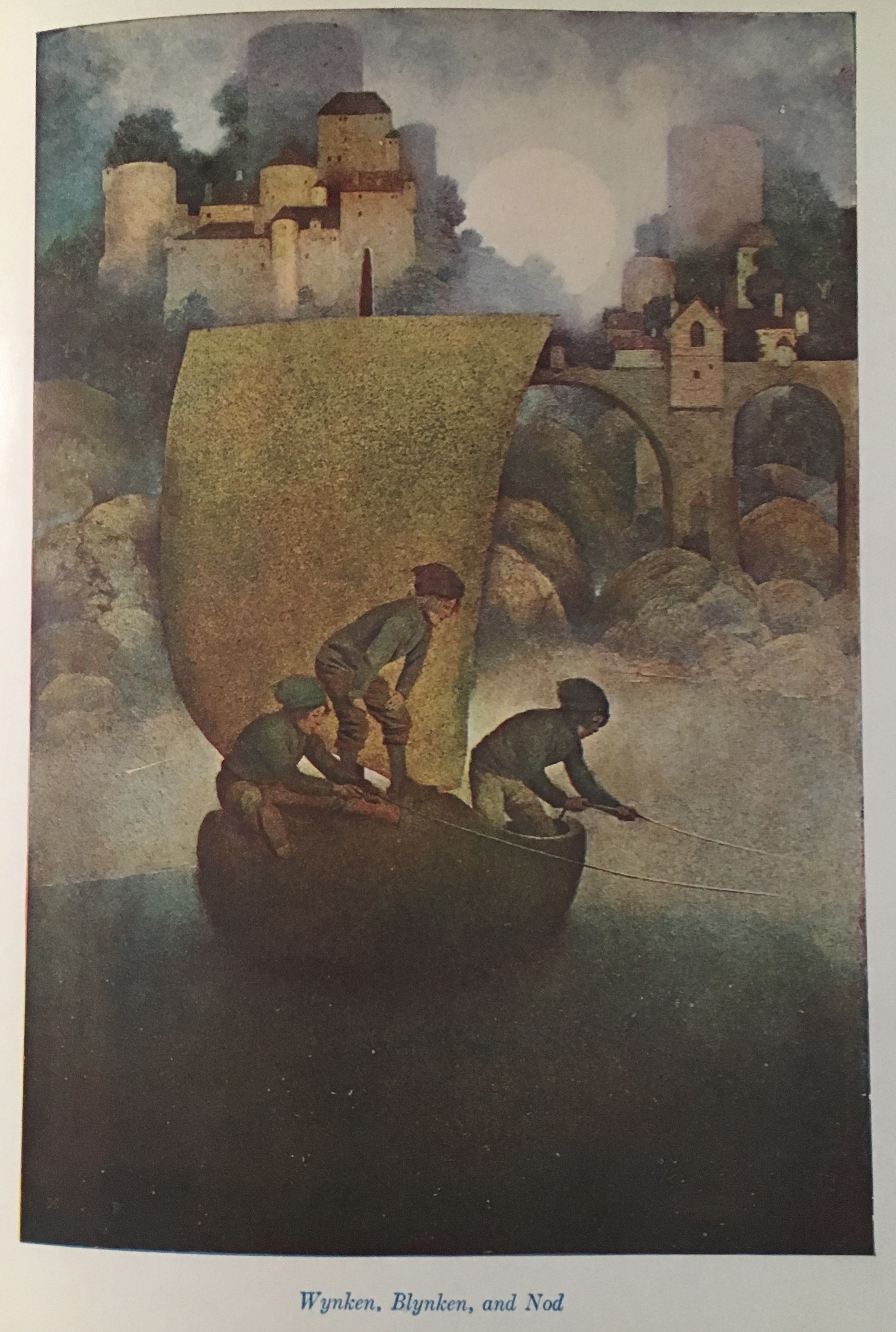 All night long their nets they threw
To the stars in the twinkling foam—
Then down from the skies came the wooden shoe,
Bringing the fishermen home:
"T'was all so pretty a sail it seemed
As if it could not be,
And some folks thought 'lt was a dream they'd dreamed
Of sailing that beautiful sea—
But I shall name you the fishermen three:
Wynken,
Blynken
And Nod.
Wynken and Blynken are two little eyes,
And Nod is a little head,
And the wooden shoe that sailed the skies
Is a wee one's trundle-bed
So shut your eyes while mother sings
Of wonderful sights that be,
And you shall see the beautiful things
As you rock in the misty sea,
Where the old shoe rocked the fishermen three:
Wynken,
Blynken
And Nod.
THE WRITING  OF THE NORTHERN GATE PAPERS AND THE POETRY BLOG WERE INSPIRED BY DR. CONFORTI AND MY UNCLE DORR BEALE.